A few very preliminary doodles....looking to create an even more picturesque setting at their current home. VOTE FOR 1, 2 or 3....comments welcome.
1...existing garage to remain for now...replaced in phase two. Gable roof with a pair of matching shed dormers. Wrap around roof deck too.
2...four square with a fireplace and wrap around stair to above...alley/garbage access.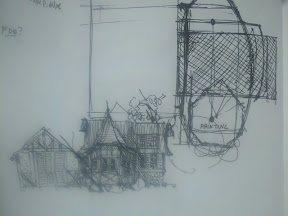 3... Ignore the oval on the plan, a 1 story painting studio turret, and two story workshop/storage behind. Add some board trim to the existing garage.
- Posted using BlogPress from my iPad
Location:Cambridge, MN